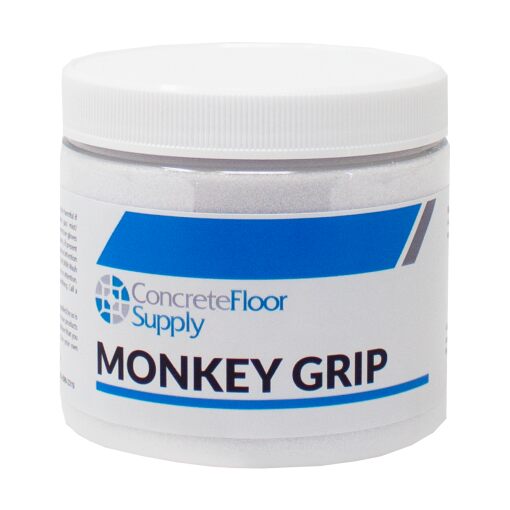 Description
Data
Coverage Rates
How To Use
Additional Information
Company Reviews
Monkey grip is a safe, non-toxic, non-flammable and inert material that adds slip resistance to any concrete sealer. It is colorless and transparent so that it does not change the color or clarity of the coating. Monkey grip is 40 mesh in size and is best added to higher solids coatings such as Poly 90. For a smaller size try our Grip X which is 100 mesh.
| | |
| --- | --- |
| Data Sheets | |
| Container Size | 32 oz container; weighing 2lb 4.5oz |
| Type | Colorless, inert slip resistance agent, 40 mesh |
| Odor | Odorless |
| Toxicity | Non-toxic |
| VOCs | None |
| Flammability | Non-flammable |
Add one container to 5 gallons of sealer
Monkey Grip can be spread over the surface of the wet coating layer taking care to spread it evenly over the surface. When the layer is dry it should be over coated with a clear layer of sealer to lock in the additive and insure long wearing characteristics.
Alternatively, the Monkey Grip may be premixed with the sealer and stirred in thoroughly to a uniform consistency. Add a container of Monkey Grip to 5 gallons of sealer (rates can vary depending on desired outcome).
This mixture may be sprayed, rolled or brushed over the surface. Always stir the mixture occasionally during application.
When the treated layer is dry, over coat it with a clear sealer coat. This locks in the additive and gives long wearing characteristics.
Additional Information
| | |
| --- | --- |
| Weight | 3 lbs |
| Dimensions | 8 × 8 × 8 in |
[wprevpro_usetemplate tid="1″]
Related Products