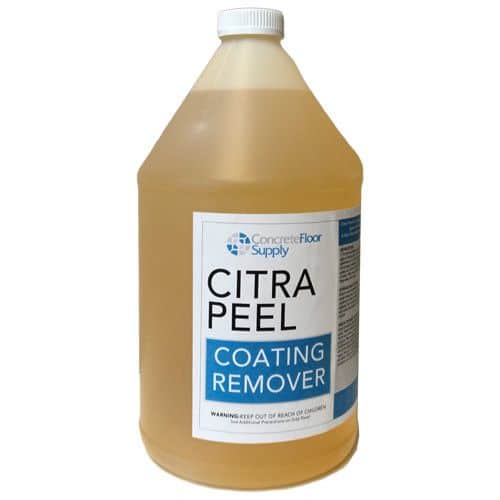 Question: I'm grinding a 4400 sq fr shop with cure and seal. Do you have a coating remover you recommend to speed up the process? I'm grinding with 70 grit because I don't want to go to rough a grit. The concrete is in great shape.
Answer: Our Citra Peel is an excellent coating remover that will speed up the process significantly for you. It is safe to use and has a low odor.
Great for removing acrylic sealers from concrete
Removes "Concrete Cures"
Safe and Economical
Citra Peel
is a nonflammable, water based acrylic coating remover for use on concrete floors, paving blocks, etc. to safely remove the acrylic sealer. It's low odor is ideal for interior use. Customers can use Citra Peel's to strip off old acrylic sealers. If a color change is desired on concrete, like that of our 
Acid Stain System
; Citra Peel in conjunction with 
Super Blue
concrete renovator is ideal when redoing a concrete floor. Users of Citra Peel see the fast action of the penetrating product. Acrylic coatings can be softened for 20-30 minutes and therefor, can be scraped or flushed off easily. Heavy coatings may require more than two treatments. Before starting, customers should always test an area before use. You can find more insights and tutorials, visit our
YouTube
channel!
---
RELATED
Posts